About
What does it take for a film to enter a multi-million dollar club? A billion dollar vision!
As the canvas of films grows bigger in India, so does the need to expand beyond conventional borders and to tap the full spectrum of the domestic audience, Indian diaspora and the global film market.
Project Indywood, the USD 10 billion visionary project has been at the forefront of uniting all Indian regional film industries under one umbrella and connecting the industry with global stakeholders of cinema. By bridging the gap between the Indian and International film market, and opening new avenues for international trade and investments, Indywood will help promote Indian cinema globally, thereby benefitting its film industry, both financially and qualitatively.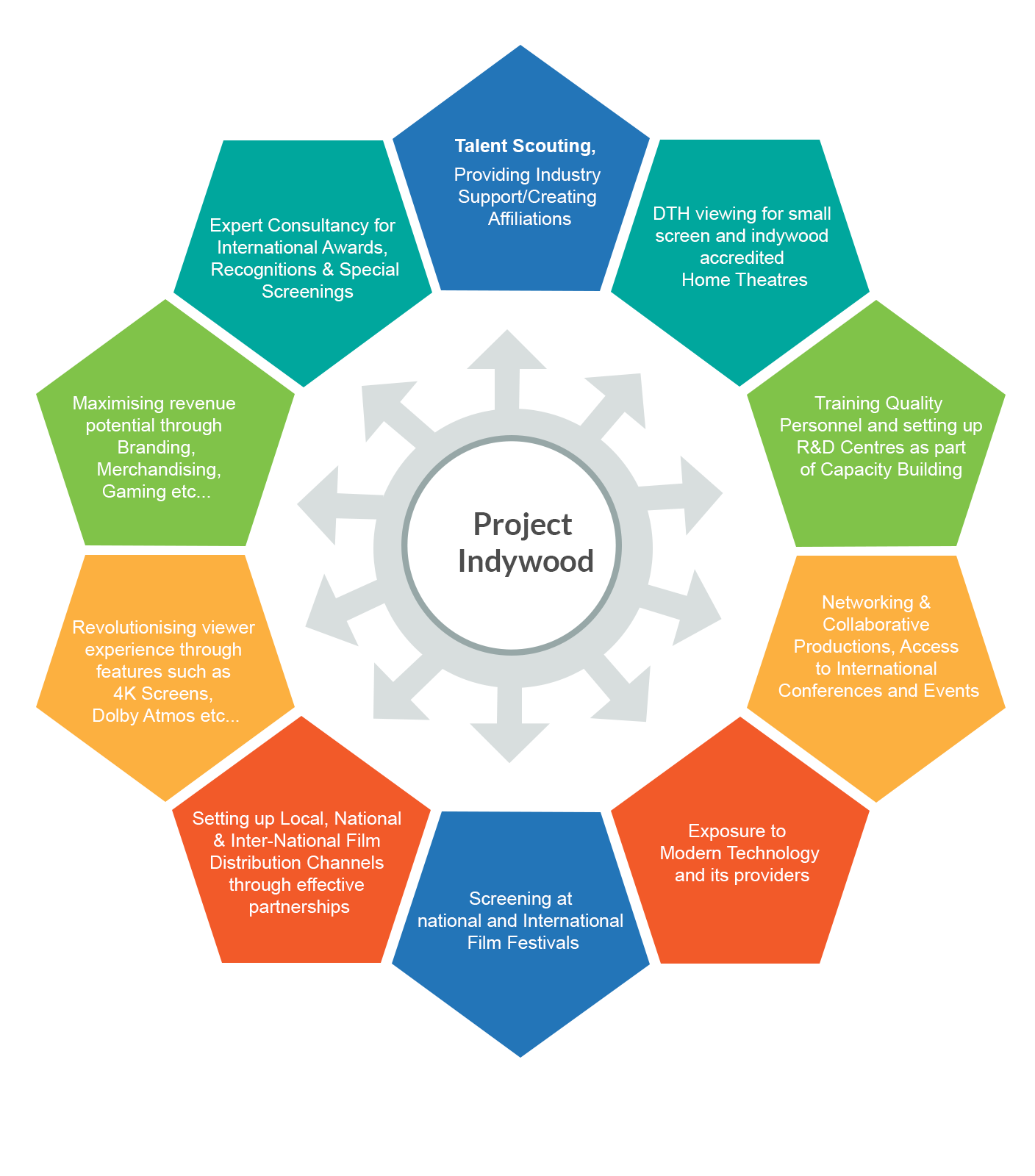 Indywood Film Carnival
Indywood Film Carnival is the flagship event of Project Indywood. The 4th edition of this film festival and tech expo was organised from December 1 – 5, 2018 at Hitex Exhibition Centre, Hyderabad.
The carnival is a representative platform for showcasing the entire gamut of cinema making, ranging from pre-production to skill development, production, technical support, post-production, distribution, marketing and release, among others.


To cater to the need for an end-to-end life cycle solution envisioned by Project Indywood, the Indywood Film Carnival acts as a confluence for different stakeholders to network and create meaningful collaborations. This is made possible through four well planned verticals; each of them a mammoth undertaking held in parallel to each other, at the same venue.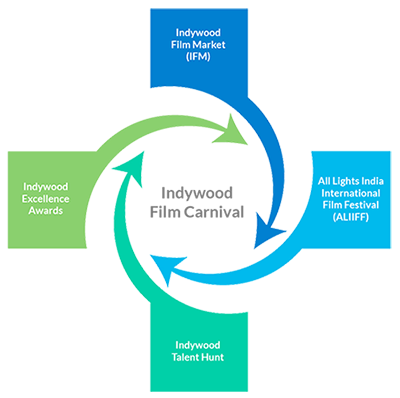 About the Fourth Edition
The 5 day mega carnival saw over 20 events including Films, entertainment nights, networking parties, business sessions, industry meets, cine awards, fashion shows, youth events at HITEX Exhibition Center, Hyderabad from Dec 1 – 5, 2018.
Held in association with India Joy and Government of Telangana, the carnival showcased more than 100+ movies from 50+ countries, 100+ exhibitors including leading technology providers, production agencies and distribution plus theatre owners, 1500 company representatives from across the globe, 500 creative youngsters from all 29 states of India, designer collections from Bollywood, Mollywood, Tollywood, Dollywood and Sandalwood along with The international segments by Iranian designer and the INIFD.
Other events included Indywood Pravasi Ratna Awards, Indywood Vanitha Ratna Awards, Indywood Yuva Ratna Awards, Indywood Investors Meet, Indywood Excellence Awards, the Golden Frame awards, Workshops & seminars by film industry experts, Conferences and Panel Discussions, networking sessions, Cocktail Dinner Parties and Cultural programmes.