Indywood IT Excellence Awards honors renowned IT organisations and Personalities at Hyderabad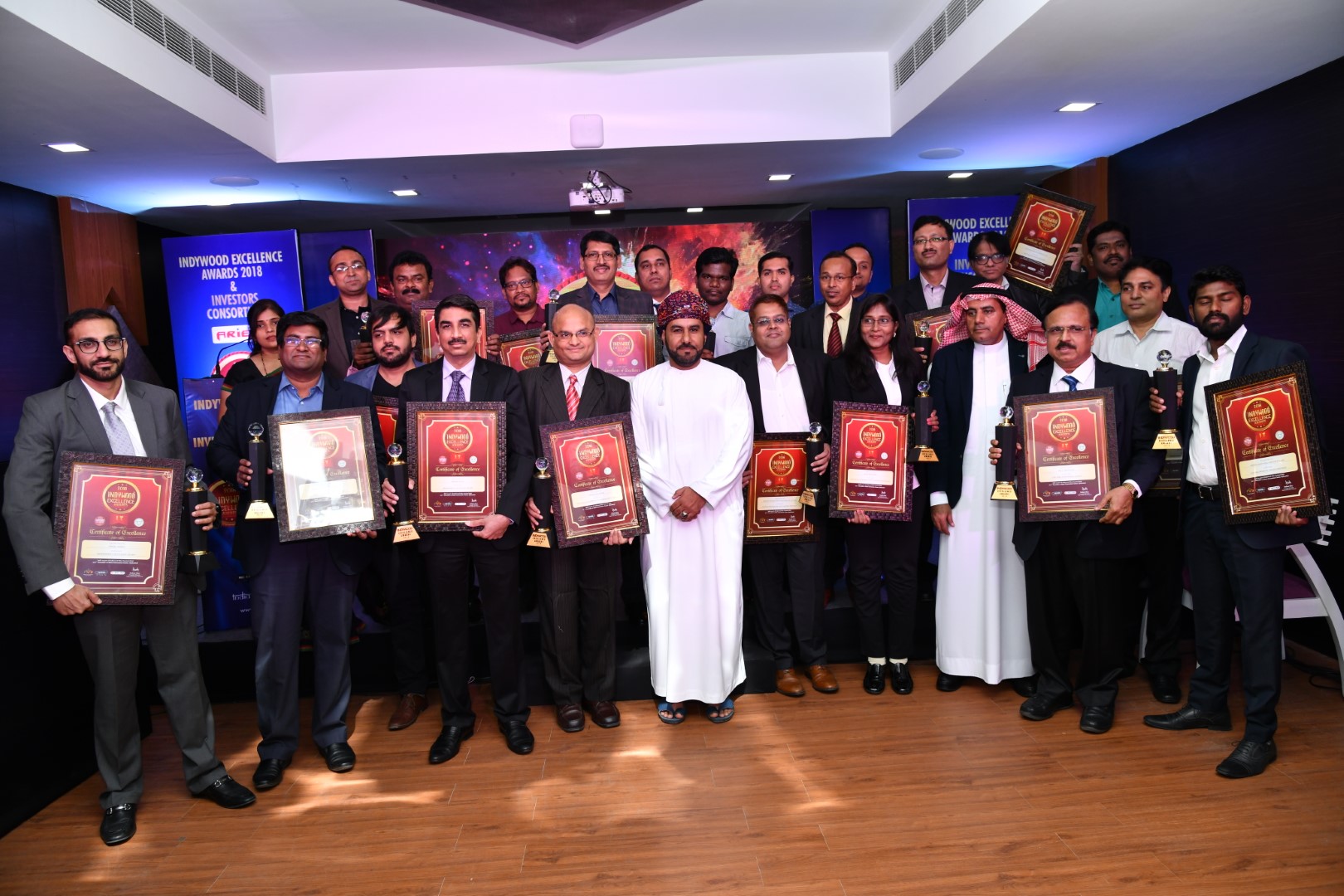 The prestigious Indywood IT Excellence Awards 2018 concluded successfully at HITEX Exhibition Center, Hyderabad on 1st December 2018. The award was organised to recognize and facilitate efforts made by IT organisations and personalities towards the development of their sector. H.E. Mr. Mohammed Ibrahim Al Qahthaini was the chief guest of the event.
Recognizing the contributions of an individual over the whole of a career, rather than or in addition to single contributions, Indywood IT Excellence Award – Lifetime Achievement Award was bestowed upon Balu Srinivasan, Senior Vice President and Chief Information Officer of TVS & Sons
Indywood IT Excellence Awards for Professional Excellence was bestowed upon Dr. Dinesh Chandrasekar, VP Solution Engineering & Platform Innovation, Pactera Technologies Int. Ltd; Nikhil Arora, Managing Director and CEO, GoDaddy India; Bipradas Bandyopadhyay, CIO, Zuari Infraworld; Kumar Prasoon, Group Chief Information Officer, Al Safeer Group; Ram Kumar G, Regional Information Security Officer - Indian Subcontinent, Philips; Jitendra Singh, Chief Information Officer, JK Cement Ltd; Dr J S Sodhi, Group CIO &Sr Vice President, Amity Education Group ; Sanjay Singh, General Manager - IT , Kokilaben Dhirubhai Ambani Hospital and Hemal Savla, AVP - IT, Godrej Consumer Products Ltd.
Indywood IT excellence Awards for Entrepreneurs was bestowed upon individuals to recognize and celebrate their ideas, innovation and inspiration that have made a huge impact onto their industry. The winners included Vemparala Sarma, CEO, GreenChain Software Solutions Pvt. Ltd. (Excellence in Entrepreneurship-Quality Services);Anoop Menon, President , Confianz Information Technologies Pvt Ltd (Excellence in Entrepreneurship – Visionary leadership); Rani Paruchuri, Managing Director & CEO , Dream Tekis Software (Excellence in Entrepreneurship- Innovative Technologies); Rajendra Bodda,Founder & CEO at Srida IT Consulting and Services (OPC) Private Limited (Excellence in Entrepreneurship-Innovative Leadership); Srinivasa Rao Vegendla (VSR), Chairman & Managing Director at BT&BT Management Consultancy Pvt Ltd (Excellence in Entrepreneurship- Leadership in Digital Technology).
Other category awards were also presented during the IndywoodIT Excellence Awards 2018.Fastest Growing Big Data Analytic Provider was presented to Progen Business Solutions Private Limited. Emerging Innovative Technologies Provider was bestowed upon International Infocom Technologies Pvt Ltd; Techdefence Labs Solutions Private Limited was honoured with Leading Cyber Security provider award; Hanu Software Solutions Pvt.Ltd. was honored with Best Managed Services Provider Award; Piedistrict Private Limited was presented with Innovative Tech Start UP firm award; Divyateja IT Consultancy Services Pvt Ltdwas named Emerging IOT Solutions Provider; Most innovative use of Blockchain in Healthcare was given to Pipra solutions Pvt Ltd; Signzy Technologies Pvt Ltdwas recognised as Most innovative use of Block chain in Fintech and Soniks Consulting Services Pvt.Ltdwas presented with the award for Leading Database Services Provider.
A panel discussion on 'Impact of Information Technology - block chain aspects on the Entertainment Solutions.' was also conducted during the ceremony. The panel discussed possibilities and the recent innovations made by the IT industry to uplift the entertainment sector and bring it at par with world standards. The session was moderated by invite Mr. Kumar Prasoon, Group Chief Information Officer, Al Safeer Group
Indywood IT Excellence Awards 2017 was organized as a part of Project Indywood, a US$10 Billion Project to be initiated by a consortium of 2000 Indian corporate and Multi-Millionaires.
---